With over two decades in the restaurant business, Marty learned the best way to bring a customer back and their friends is with great service and Food with FLAVOR!
Now you can bring that award-winning flavor home with Mowerman Marty's EXCLUSIVE Smoked Sea Salt & Southwest Mesquite Rub or any of the Specialty Condiments he personally distributes. Bring all of your dishes to life, especially on the grill! Tantalize your taste buds and impress your friends.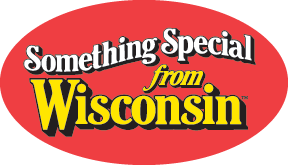 Proud member of
All seasonings are all natural and contain no MSGs.
Available in Larger Containers & Bulk Quantities
100% satisfaction guaranteed.
The only limitation is your imagination.
Smoked Sea Salt
If you've ever known a multi purpose seasoning, this is it. You will find yourself and all your friends using it on EVERYTHING! Literally! In place of SALT! Never overpowering, always just what it needed. NO MSG'S NOTHING ARTIFICIAL. Now you can enjoy that "Just Smoked" flavor on everything without the 6 -12 hour wait.
If you've ever tried a smoker you know it's not for everyone. I leave it to the pros thanks to Mowerman Marty. I even keep at least 2 bottles in the car, just in case. I've been to many places over the decades and the majority of them could have used a little of this SSS flavor. Thanks to the convenient 8 oz. jars, you can bring it anywhere just in case too. I can't keep it around, everybody that tries it, or just smells it, wants it! The folks at the next table get a wiff and actually ask about it.
Southwest Mesquite Rub
6 oz.
$8
Southwest Mesquite Rub
Try Mowerman Marty's Southwest Mesquite Rub before the next prime cut of meat hits your grill....
That secret recipe you swear by for all your rubbing needs, It's in here, All the Flavor and none of the hassle. Wholesome, Quality, "ALL NATURAL" ingredients ready to apply liberally on your favorite cut of anything, any fillet. The sweetness of Mesquite, the bold flavor of Hickory and just the right amount of herbs and spices to take it to the next level. Like all my seasonings, Never Overpowering, a true flavor enhancer. Experiment, try something new, share it with your friends, impress that certain someone.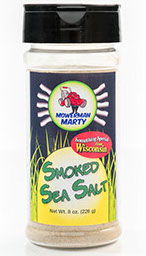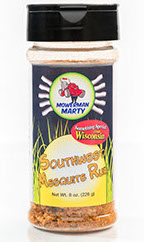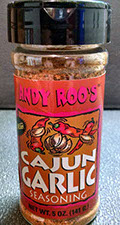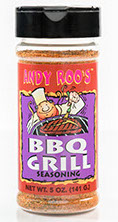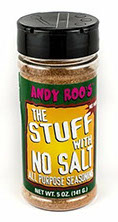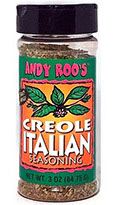 Cajun Garlic
Bring that New Orleans Creole goodness to all your dishes with Andy Roo's Cajun Garlic Seasoning. This is not a mass produced, far from real Creole, it's Louisiana certified. Like all the choices from Andy Roo's only the best Ingredients to give you the authentic true flavor of the Bayou.... Now available to take home and enjoy on anything that needs to be "Kicked up a notch" ESPECIALLY GREAT IN BLOODY MARY'S! If you never really had the taste for a Bloody, NOW YOU WILL! and not just on Sunday's. No Garden NEEDED!
Cajun Garlic Seasoning
5 oz.
$8
5 lb. Jar
$70.00
BBQ Grill Seasoning
5 oz.
$8
5 lb. Jar
$70.00
The Stuff with No Salt Seasoning
5 oz.
$8
Creole Italian Seasoning
3 oz.
$8
Cajun Blackened Seasoning
4 oz.
$8
BBQ Grill
What a way to start off a great BBQ event when using Andy Roo's BBQ Grill Seasoning. We designed such a fantastic rub that goes so well on steaks, chicken or seafood. We also recommend trying it in different pasta dishes. Try using Andy Roo's BBQ Grill Seasoning when entering any BBQ competition but don't be surprised if you take home first place!
The Stuff with No Salt
All the Creole flavor of our Original All Purpose Seasoning for those on low or no salt diets. No Salt, No MSG and All Natural Ingredients.
Create flavorful Cajun Creole classics such as jambalaya, dirty rice, gumbo, bisques, etouffee and more - without the salt!
Creole Italian
A Cajun Creole Twist on a Classic Blend of Italian Flavors that adds a little kick to your favorite Italian recipes. Try it with pasta, sauces, soups, stews, and to season your favorite meats, seafood and veggies. Try it on roasted potatoes or in your pasta salad! No salt No MSG's. Perfect for all your Italian recipes and bring your pizzas to life! You can always add as much salt as you care to.
Cajun Blackened
Andy Roo's Cajun Blackened Seasoning has got to be one of the finest on the market to date. It is a salt free blend unlike other leading brands that are so loaded with sodium that they are hard to enjoy. However, with Andy Roo's Cajun Blackened Seasoning you will enjoy every last bite, down to any debris left on your plate. This unique seasoning blend is great on chicken, steak, shrimp, fish, scallops, shrimp. Better get you some!
Certified Creole Spices straight from Walker, LA
Steven Raichlen's Project Smoke
Cabernet Rosemary
Pairs perfectly with steak, ribs, chicken, vegetables, fish, and more!
A cabernet-infused grilling sauce from California wine country. Brush it on as a glaze and sear it into the meat.
Galena Canning Co. Sweet Bourbon Glaze
From Galena, IL
Dark brown sugar, apple cider vinegar, soy sauce, bourbon, garlic, red peppers, and molasses make this glaze perfect for brushing on grilled salmon or on pork chops for a Kentucky Derby dinner party.
When the ingredients start off with Dark Brown Sugar.... it can't be bad... Have to head South of the Border to get this one...A Finishing Glaze for anything you pull off the grill or even out of the oven,,, Meatloaf, Roasts, Turkey, Chicken, Loins, chops, ribs, ham. Not just meats but veggies, potatoes, rice, pasta's, Baked Beans..... Resembles a Jack Daniel's Grill Sauce...Sweeeetttt Bourbannnnnnn..As everything, Wholesome, ALL NATURAL, NO MSGs, NO HIGH FRUCTOSE CORN NOTHING! Keep in mind a finishing Glaze... full of sugar and sugar and flame don't always mix so wait till you have it on the counter before you slather it thick..... all Glazzeeeddd up...
Project Smoke
Chipotle Molasses
Fire and spice with a touch of sweetness from Texas Hill country. Channel your inner Texan with this smoked chili inflected sauce. Slather it on brisket or ribs and of course, barbecued chicken, beef or pork.
Mrs. Dupey's Hot Beer Mustard
from Cadott, WI
Since 1977 J & J have been producing a unique Mustard with a kick! Made with local ingredients including REAL WI. BEER! in Cadott, WI. It will get your attention but not ruin your day, will clear your sinuses but not leave you cryin' Yes it has a real bite, like a Chinese mustard. Not just hot but tasty! GREAT on Ham, burgers, dogs, even dippin' Never anything artificial, No Preservatives so you'll have to keep it refrigerated...
Project Smoke
Carolina Pit Powder
An aromatic blend of paprika, pepper, garlic, and brown sugar. Think spice plus sweetness that goes equally well with chicken, ribs and more!
Pure Maple Syrup
from Cazenovia, WI
This pure and natural old-fashioned maple syrup is made from sap of the sugar maple tree. Approximately 40 gallons of maple sap are boiled down to produce the correct density of one gallon of this pure maple syrup.
Did you know that pure maple syrup is nature's healthful sweetener? It contains vitamins, minerals, and necessary amino acids. Try it on...grapefruit, hot cereal, granola, plain yogurt, winter squash, or sweet potatoes. Use it as a glaze on meat and over ice cream. Put it in coffee, milk or a milkshake. Pour it on pancakes, waffles and French toast.
Cabernet Rosemary
13.9 oz.
$8
Sweet Bourbon Glaze
12 oz.
$10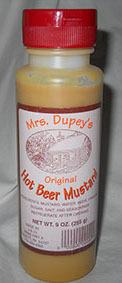 Chipotle Molasses
15.6 oz.
$8
Mrs. Dupey's Hot Beer Mustard
9 oz.
$10
Carolina Pit Powder
4.75 oz.
$8
Pure Maple Syrup
1 Quart
$27.50